We recently interviewed Matthias Zeitler, the co-founder of CoWorking Bankso. Based in Bulgaria, Bansko seems to be a great destination for Digital Nomads for the low tax rates, community, cost of living and good Ski facilities!
1. How did you decide to start a co-working space?
My co-founder Uwe and I met while sailing across the Sea of Bengal. Being on a 18 day sailing trip is an intense experience as there is not a lot of space and everyone needs to help keep the boat moving, cook for everyone, hold night watches, clean and much more. So you get to know the other people quiet well after a few days. And Uwe and I saw something in each other that we liked so much that we decided to start something together. It took us a while to figure out what we wanted to do. Since we both have a passion for the type of intentional communities that form around coworking and Coliving, we decided that we should start a coworking space in a mountain resort specifically catering to location independent people like us.
We came to Bansko in summer 2015 for the first time with a few friends and really enjoyed the experience a lot. We ran into Irina and thought that she is such a good fit for us that we offered her a contract during the first meeting.
2. Could you tell us more about Coworking Bansko.
Coworking Bansko is a boutique coworking space with 30 seats located in the Pirin mountains in Bulgaria. In the winter it is the best ski resort in the Balkans, while in the summer it is a quaint historic village with about 8000 people living in a totally stress free natural environment. The summer climate is Mediterranean, warm with little rain, and the beaches of Greece are only 2.5 hours away, so lots of fun stuff to do year-round.
Because our space is catering mostly to digital nomads we have a pretty vibrant and diverse community of amazing members, that not only want to take advantage of the ergonomic chairs and 150 MBit internet of our space but mostly want to connect with other people when in Bansko.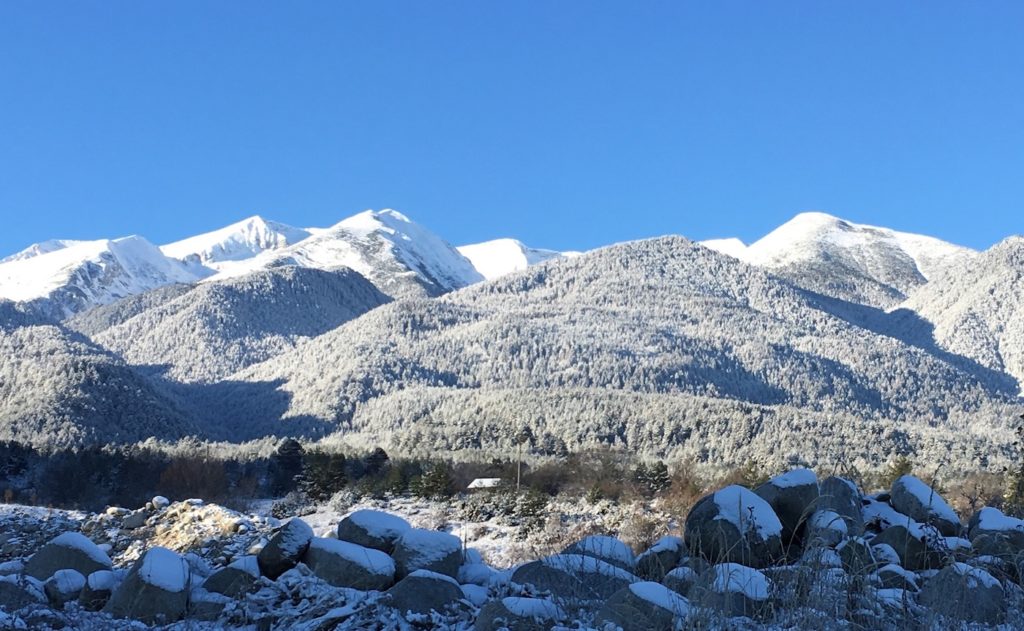 3. How is Bansko & Bulgaria for Digital Nomads?
Bansko has all the features of a digital nomad hub:
- super affordable real estate with rents starting at 150 Euro per month
- very low cost of living with most of our members spending between 500 Euro and 750 Euro per month, while eating out a lot and enjoying everything Bansko has to offer
- a 10% flat income tax with low social security contributions for everyone who wants to move their business & residence to Bansko
- Inside the EU, so no visa requirement for Europeans and 90 day visa free for nearly everyone else. And outside the Schengen zone, so people can stay 90 days in Bulgaria and then 90 days in Schengen.
- a growing nomad community around Coworking Bansko with lots of business and social events
- plus of course all the other fun stuff that you can do in the mountains like skiing, hiking, mountain biking, rafting, horseback riding, enjoying the hotsprings or exploring the rich cultural heritage of Bulgaria
- And it is very easy to get to the close Sofia airport, which is a major hub for Wizzair (30+ destinations) and Ryan Air (23+ destinations) with low cost flights starting at 10 Euro during various promotions
We have a rather active Facebook Group where people can learn more about Bansko before coming.
4. What are your thoughts on Co-Living for Digital Nomads?
I love to travel a lot myself and are in the lucky position that my main software business is fully remote. Coworking Bansko is more of a hobby for me and I alternate leading it with Uwe, so that one of us can always travel. This freedom is great, but often it means that during my travels it is hard to make deep connections with other nomads. While it is easy to make fast friends among nomads, often the transient nature makes it difficult to move beyond casual connections. My feeling is that a lot of other nomads feel the same and coworking/coliving places allow us to be with the same group of people over a longer period, get to know them better and form lasting bonds.
5. What are some of the most unique features you have found traveling around co-working spaces? (Like the hot springs mineral bath that Coworking Bansko offers its members)
Unlike large coworking franchises that try to commoditize the coworking experience, each indecently owned coworking space reflects the personality and vision of their founders. So they are all unique to some extend or another and it is hard to name them all. However places that I enjoyed a lot include:
- Coworking Salzburg which offers a Coworking & Baby program that allows parents to bring their kids into a supervised environment while they themselves can be productive without worries.
- @CAT Penang  which has massive maker space including a maker museum in the same building
- C.A.M.P which is located in a beautiful mall with a cinema, a gym, lots of food options and an amazing rooftop bar
But there are so many more really cool coworking spaces and often it is not the features of a space but rather the community that makes a big difference if I feel welcome when I travel.