Chiang Mai, Thailand being the biggest Digital Nomad hub has a list of its favorite CoWorking and CoLiving spaces. Hub53 was recently launched to provide Digital Nomads a combined experience of a CoWorking space with CoLiving amenities. Founded by Natika Prakobboon, we got a chance to interview her about Hub53.
1. How did you decide to start a co-working & coliving space?
Hub53 Coworking & Coliving Space was inspired by the many digital nomads and location-independent entrepreneurs who come to Chiang Mai. They have discovered what those of us who call Chiang Mai home already know – that this is the ideal city to enjoy the rich Northern Thai culture, relax, design a job, and create a lifestyle built around happiness.
Inspired by this movements, we created a special space that would provide coworking, quality accommodations, and community for digital nomads. Located a short 8-minute walk from the popular Nimman Road neighborhood and the Maya Mall, Hub53 offers access to the best of Chiang Mai.
Hub53 coliving spaces feature only private and family rooms to create an atmosphere of relaxation and peace. Guests can work in one of the many common areas, make a home cooked meal in the kitchen or socialize with like-minded people. We have hosted startup founders, affiliate marketers, travel bloggers, videographers, writers, app developers, and many other creative, and interesting guests.
The coworking space features several different types of workspaces for every kind of digital nomad. From those seeking a communal open floorpan to those who desire a private office or a conference room for that big pitch.
If you are considering making Chiang Mai the next destination on your world travels or you are already in Chiang Mai, and searching for the ideal coworking space for your team of digital warriors, come to Hub53 and see what we have to offer.
2. Could you tell us more about Hub53.
Hub53 is a Thai owned and run co-working space. Chiang May has been my home and I have loved seeing it turn into a digital nomad hub. It brings a different kind of traveler to Thailand, someone who is perhaps more interested in the local culture. These people want to have fun but I think they have more opportunities to contribute to the city because they stay longer than other kinds of travelers.
I built this place to really create a community. A place where people can come home and hang out together in the evenings. They can feel like they are surrounded by like-minded people, make connections, and hopefully make friends!
That's why made sure to have a common area that feels almost like a living room. People cook, use the open kitchen, and sit around the table socializing.
The 24-hour access to the coworking space is also the perfect for our Coliving residents because a lot of them don't keep regular hours. They have companies in Europe, Australia, the U.S. They need to be up from Midnight until 4 a.m. working. Here, they can do that and go straight to their room to catch up on sleep and then enjoy the city!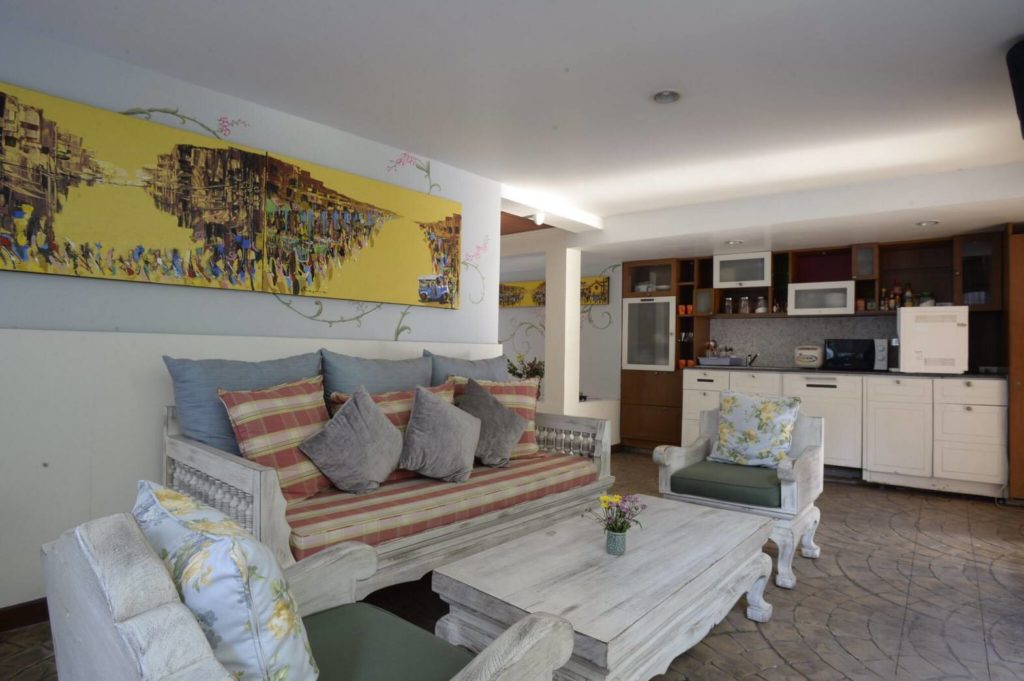 3. How has Chiang Mai evolved over the years for Digital Nomads?
It's really exploded over the last couple of years. I know the community is very close and it is growing. I see it daily with a lot of our residents. Some people come here on their own, meet new people who are also staying at Hub53 and start to collaborate or work together.
We have the Digital Nomad Summit coming up and that's going to be huge. Overall, they really like it because there is a community and we are an affordable city compared to other locations.
4. What are your thoughts on Co-Living for Digital Nomads?
Obviously I think it's great to do coliving and coworking in the same space! It's perfect for people who want the ultimate convenience and flexibility. You can get up anytime, work anytime, and also relax. There's no need to worry about office hours when you are staying at a coworking space because you have round-the-clock access. It also gives instant access to a community of like-minded people. People can exchange ideas, go out to dinner, or just chat about their projects. I see it everyday!
Check out Hub53's website.